Bitcoin stock investment is the solution for anyone who wishes to participate in the budding yet volatile crypto market without risking their funds. This strategy is an alternative to investing directly in bitcoin (BTC). Investors can make profits on the rising BTC price by investing in firms that work to use the crypto and the technologies that power it, such as blockchain.
The unexpected profitability in the bitcoin space has resulted in the creation of many millionaires. Investors can invest in the following companies that have bitcoin and blockchain at the forefront of their growth plans.
Nvidia (NASDAQ: NVDA) Corporation
The popular and well-established hardware company, Nvidia, recorded a turn over of $8 billion in revenue in 2017. During the year, its shares experienced a growth of almost 70%. Much of that success came due to increased demand for Nvidia's high-performance processors and graphics cards. Originally, these components were designed for desktop PC games.
The processors have since been used by Bitcoin miners to solve the cryptographic codes and in the process mine new Bitcoins. Additionally, Nvidia's graphics chips are designed with adequate processing power to help with artificial intelligence (AI) applications such as autonomous vehicles and the Internet of Things (IoT).
These technologies have the potential to take over the world in the coming years which might increase the price of the NVDA stock significantly.
PayPal (NASDAQ: PYPL)
PayPal is still a major Bitcoin stock in the markets. Being a leader for digital payment processing, PayPal reached a deal with three bitcoin payment processors that include GoCoin, BitPay, and Coinbase. The deal enabled PayPal merchants to accept bitcoin payments.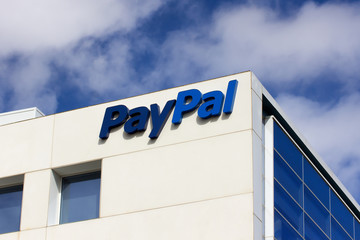 Since June 2018, PYPL share price has gained by over 14% demonstrating that the firm still has a lot of momentum in the stock markets.
Square (NYSE: SQ)
Square is an impressive application that is headed by Twitter's Jack Dorsey. The mobile payment firm got bitcoin onboard enabling users to buy and sell their crypto holdings directly via the Square app.
This company sold at least $34 million worth of bitcoin in Q1 2018 and the amount kept rising in the subsequent quarters. The potential for massive growth in the future as crypto goes mainstream makes Square a great bitcoin stock to acquire in 2020.
Overstock.com (NASDAQ: OSTK)
One of the popular subsidiaries of Overstock.com has rapidly become a genuine alternative trading platform. Tzero announced its Initial Coin Offering (ICO) in 2019 and it is now offering a general ledger system for capital markets using cryptos. Thus, investors can use their crypto funds including bitcoin to buy real-life securities before receiving profits in cryptocurrency.
Tzero operates in the blockchain which makes it quite cheap to operate compared to the traditional security trading solutions. Hence, its potential for massive growth makes it an excellent bitcoin stock for investors.
Microsoft Corporation (NASDAQ: MSFT)
Most of the companies that work closely with blockchain tend to attract attention from investors seeking to invest in a bitcoin stock. Microsoft (MSFT) is one such company after it unveiled its plans to bring blockchain as a service to the Azure cloud. The decentralized trust is bringing in renewed faith in open-source technology which, in turn, is capturing the imagination of developers.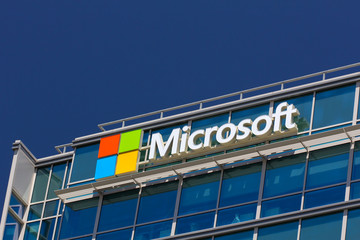 Microsoft decided to introduce 'Blockchain as a Service' on its Azure to enable it to rival Amazon in matters of hosting cloud-based apps. Since it succeeded with its Microsoft's Ethereum Blockchain as a Service in 2015, the company has moved its crypto operations rapidly.
The Bitcoin Investment Trust (OTCQX: GBTC)
The Bitcoin Investment Trust has managed to bring cryptos to small-scale investors. It is the only bitcoin stock available on the NASDAQ and the US public stock exchange in general. The company holds bitcoin as its primary asset allowing investors to invest in bitcoin without having to purchase bitcoin directly except using a CFD broker.
A CFD broker allows investors to acquire Contracts for Difference on the BTC price instead of owning it in a crypto wallet. Investors can purchase a share of the bitcoin from the trust with each share worth about BTC 0.001. Investing in the firm is safer than purchasing BTC directly since investors are shielded from security vulnerabilities that some of the crypto exchanges experience.
By purchasing a bitcoin stock, you can rest assured knowing that you are not exposed to extreme volatility like it is with the case of trading bitcoin on a crypto exchange. With bitcoin becoming limited especially with the recent halving event, investors are turning to bitcoin stocks to make some profits from the growing bitcoin market.